Shri Amarnath Yatra
Amarnath Yatra is most important pilgrimage event during the monthsd July/ August, Located in higher Kashmir himalayan range , This is an annual pilgrimages is performed by hundreds of thousands of Hindus from different corners of the Globe. The shirne of Amarnath cave, has a naturally formed ice Shiva Linga , The trek of Amarnath yatra starts from Pahalgam to these caves According to the Legend, Shiva recounted to Parvati the secret of universe in the cave in Amarnath. Unknowgly , a pair of mating doves eavesdropped on this conversation and having learned the secret, are beleaved to reborn again and again, and have made the cave their eternal abode. Many pilgrims report seeing the doves-pair when they trek the ardous route to pay obeisance before the ice-lingam . The trek is a trechrous & filled with energy during which thousands of pilgrims ecos the chants of Lord shiva. The Amarnath yatra has participants from all corners of life including sadhus, old & youngsters. This is an event you certainly will talk about for the rest of your life.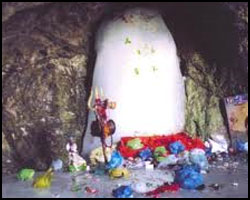 Duration
:
03 Nights /04 Days


Location

:

Srinagar-Sonmarg - Baltal - Amarnath
Detailed Itinerary
Day 01
:
Srinagar arrival Transfer to Sonmarg By Sumo / Quolis o/n 3 star Hotel
Day 02
:
Sonmarg - Baltal - Amarnath cave ( By Helicopter ) - Baltal - Sonmarg O/n same hotel
Day 03
:
Sonmarg - Srinagar - Full day sightseeing shankracharya cave / Hajratbal mosque o/n Htl. Centure 5 star
Day 04
:
Apt. Dept. after Breakfast.
Rs. 20,000 + service Tax
Cost Includes :
* Return Helicopter Tkt. ( RMK. : Tkt. already sold we will try to get locally )
* Accommodation as per above
* Meal MAP
* Transportation from Srinagar to Srinagar
* Local Assistance
* Guide is not required for this tour, But local Drivers are quit helpful.
Services Not Included :
* Expenses of personal Nature
* Local guide for 3 day From Apt. to Baltal & Baltal to Srinagar Apt. Rs. 5000
* Single supplements
* Any delays due to weather or any unavoidable circumstances extra on Actual
* Any thing not mention above