Muktinath / Chumig Gyatsa
Brief Introduction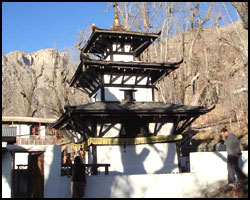 Muktinath a holy place is located in the district of Mustang. Muktinath / Chumig Gyatsa is sacred place for both HINDUS and BUDDHISTS situated at an altitude of 3750 meters (12300 feet) in the Annapurna Circuit. The local name of Muktinath is Chumig Gyatsa, which means a Hundred Waters. This is a great and unique example that both the religions worship the same holy place with high respect and support.
or Buddist the Chumig Gyatsa is a place for 24 Tantrics which represents the goddesses known as sky dancers. This place was first blessed by Padmasambhava & Mahasiddhas. Therefore, the Narsingh Gomba with its statue is considered a holy place at Muktinath.
For Hindus, the natural fire represents Brahmma and the holy water, the central meaning of the Muktinath area is the veneration of the god Vishnu in the form of Shaligram (shilas). Vishnu turning into shaligram are closely connected to Kali Gandaki River which is few hours walk from the area. During the festival of Janai Poornima and Chaitra Dasain, Hindu devotees gather at this holy place to pay homage to Lord Muktinath.
Places of Interests at Muktinath / Chumig Gyatsa:
A. Central Muktinath Temple (Vishnu-Chenrezig Temple or Hindu-Buddist Temple): Dedicated to the Lord of Salvation and Lord of Love built in the year 1815 AD.
B. Shiva Parvati Mandir: The Shiva Paravati Mandir with Shiva, the god of generation and destruction with goddess Paravati is the only temple at Muktinath / Chumig Gyatsa which is purely Hindu. It is surrounded by four more temples of Vishnu, Rama, Krishna and Ganesh.
C. 108 Water Spouts: At the back of the main temple one can find 108 water spouts (Chumig Gyatsa) with the taps in the shape of the boar's head one of the ten avatars of Lord Vishnu. It is said that the holy water of Muktinath can wash away negative karma, the results of one's past negative actions. It is believed that the water of Muktinath was sanctified by sprinkling the holy water carried from the lake Mansarovar in Tibet.
D. Jwala Mai Temple: In the eastern corner of the Muktinath complex, the Mebar Lhakang Gumba also called the Jwala Mai Temple is situated. The eternal burning flame (burning soil represents the "Gentle Splendor", burning stone represents " Lord of Secret" whereas the burning water represents "All-seeing one") represents the union of the opposite elements.
E. Chorten (Stupa): Located to the south-east of the main temple is a special stupa or chorten. It is believed that if you lean over the wooden bar in the opening of the chorten and put your head down to the bottom, you can musical sound of water operated prayer wheel. It is said that any deaf person can get rid of deafness with the help of this musical sound.
F. Narsing Gumba: Situated to the northern side of the main temple is the Narsingh Gumba. The statue of Guru Padmasambhava (Guru Rinpoche) is located inside the temple.